Hello everyone!
Haven't been updating as often as I could but alot of stuff has been hapening in regaurds to MIXE MEDIUM. OOH, and have you noticed? We finally committed to a dot com! Alas,
WWW.MIXEMEDIUM.COM
!!!
Anyways, we are in the process of getting everything ready for our 3rd photoshoot ;). Just a matter of scheduling a day to shoot and gathering hot fashion pieces from
CHIEF HAWAII
. Can't wait!!! As far as events go, I haven't been vending due to the fact I always run out of pieces when I stock my local boutiques :) But I am looking forward to
The Co-Op Shop
happening in May 2013, and
First Lady the Movement
5th annual Expo in July. Been working closely with the founders of FirstLady and can't wait to reveal what we've been up to ;)
STAY TUNED!
I've been really into the grunge look lately, It pairs perfectly well with MixeMedium jewelry. I decided to make some button pins inspired by grunge fashion. Easily pin these pins to edge out your outfit, or simply pin them to a beanie! Only 18 sets made so get them while you can! $4.00 for a set of five.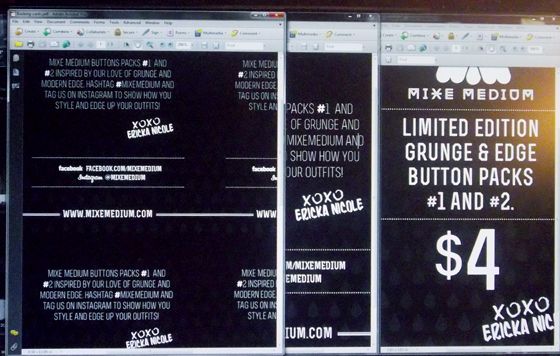 Screenshot of packaging for buttons :) It's all in the details.
MIXE MEDIUM grunge button pins! Packs #1 and #2. Available soon!